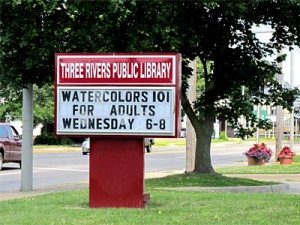 Three Rivers Artists Guild member Christi Misner will be leading a watercolor class for the Three Rivers community on Wednesday, June 30, 6pm to 8pm, at the Three Rivers Public Library, 920 West Michigan Avenue in Three Rivers.
There is no charge, and supplies will be provided.
The class is for adults. Christi will be demonstrating various watercolor techniques, and suggests that those bringing their own brushes bring numbers 4, 6, 8 round, 1/3 inch and 1 inch flat.
Call Christi at 273-8531 for more information.