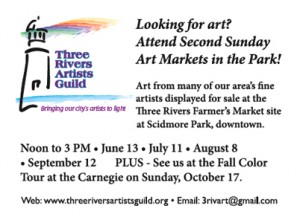 This Sunday, June 13, is the Three Rivers Artists Guild's first Second Sunday Art in the Park, be there! Three Rivers area artists will be on hand to show and sell their artwork. Three Rivers is an art/artists destination, check it out. Scidmore Park from noon to three pm in Three Rivers' Farmers Market Pavilion. Click the image for more info and a map.
@@@More News!@@@@
Once again, our Second Sunday Art Market in the Park will be graced by the wonderful music and presence of METHOD STAR, with Nathan Moore (vocals) and Nich Martin (guitar). We are very grateful to them for making our event even more special, an artistic musical complement to our visual art.
I know our artists and visitors will welcome them back!
We also have a new 2 x 12 ft. banner to advertise us thanks to Kathy B. for painting it and Dorothy B. for donating the materials!
Thanks to all who worked to get this one together, our summer kick-off event.
Article in the River Country Journal: rivercountryjournal.com/?p=31392 'Second Sunday Art Market in the Park returns to Scidmore Park' (Bruce C Snook, the publisher of the River Country Journal, passed away August 29, 2013. We will attempt to retrieve the information in this link.)