Three shows opened at the Carnegie on Sunday (if you didn't go you missed some good punch and some great cobbler!) The shows include one featuring local artists, in the Mezzanine Gallery, with the theme "This Land is Your Land". Another is a group show by the Windsong Artists, artwork done as individual reactions to certain fixed themes, titled "Shared Inspirations", in the Sylvia Wong Gallery and the Armstrong Gallery. The third show is a vast assortment of collectibles and antiques that depict eagles, called "The American Eagle: Icon & Symbol", in the Monroe Museum gallery.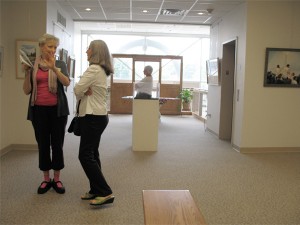 Susan Badger, Marcia Blackman, Julie Bontrager, Sandra Bowman, Carol Koterski Dugan, Kim Glessner, Julia Emanuel, Ken Clay, Vic Eichler, Joe Embil, Sarah Embil, Mary Lou Falkenstein, Becky Hackenberg, Larry-Michael Hackenberg, Christine Hartzell, Joan Hector, Izzy, Vee Kalnins, Lynda Molter, Donna Rathert, Shirley Rice, Linda Rodriguez, Jeanette Rybinsky, Joanne Sisson, Patrick Thomas, Joe VanDerBos, Francis Ballay Wagner, and Erwin Wolff contributed artwork to the "This Land is Your Land" show. It would be very interesting to hear how people made their choice of artwork to go with this theme. Got a story?
The "First Call for Fall" shows will be up until Oct. 18. Gallery hours are Tuesday through Friday, 10 TO 5 and Saturday, 10 to 3. The Carnegie Center for the Arts is downtown Three Rivers, at 107 N. Main St.; there is no admission charge. Phone (269) 273-8882 or send e-mail to donna@trcarnegie.com.