In the photo are Guild members Brian Brook and Judi Brook, with friends Ben Hassenger, Lansing area musician and Mara Van Atta, East Lansing area glass artist. They are collecting scrap metal to be turned into art for "Scrapfest" in Lansing.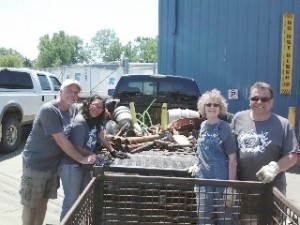 Together they form the team "The Raconteurs" that collected 500lbs of scrap metal in one hour on Saturday (June 9) and now has two weeks to collaboratively create a sculpture. Each team's sculpture must not exceed six feet in diameter in any direction. The height is unlimited. Only the 500 pounds of scrap collected on collection day may be used. Fasteners such as rivets or bolts may be used as long as they are used for their utilitarian purpose, not as a decorative part of the sculpture.The finished sculptures are delivered to the Old Town, Lansing event site on Friday, June 22nd by 10am. There is judging for 1st, 2nd and 3rd place as well as a people's choice award. A silent auction is held throughout the weekend, as well.
For location and more information on Scrapfest, visit http://www.oldtownscrapfest.com or call the Old Town office at 517-485-4283.