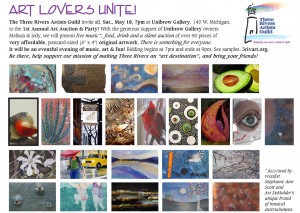 An unusual evening of live music, food, and drink along with a silent auction was presented by the Three Rivers Artists Guild at Unibrow Gallery, 140 W. Michigan in downtown Three Rivers, on Saturday, May 18, 2013 at 7pm. 90 unique postcard-sized (6″ x 4″) original artworks were created by Three Rivers Artists Guild members for a fundraising auction.
Creations included a Van Gogh painting done in felt, postcard-size boxes that open to reveal odd things, embroidered postcards, postcards of clay and jewelry and wood, postcard-sized original paintings in oil and watercolor. "Dinner with Dali" by sculptor Brian Brook was bid up the highest, an amusing postcard sized place setting of real tableware, curled to fit.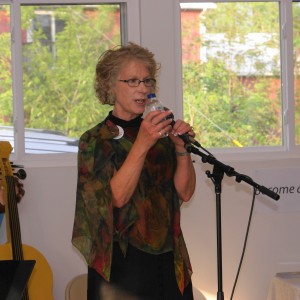 Music for the party was provided by Stephanie Ann Scott, with her jazz/soul vocal stylings, and Art DeMulder, with his unique brand of musical entertainment. Food, drink and conversation were enjoyed by guests as they perused the artwork and placed their bids.
Guild President Judi Brook closed the silent auction at 7pm and began reading the names of the elated winning bidders.
All above photos by member Barb Kroggel