ARTIST STATEMENT OF WILLIAM WELTY
For me, painting was a hobby that grew into a passion.  I had always enjoyed drawing and sketching; but about 10 years ago, as a judge of the St. Joseph County District Court, I began finding fulfillment by creating art in our family's spare bedroom 'studio' as a way to relax from eventful court proceedings.  A colleague once speculated that perhaps my art is an attempt to counterbalance the frequent ugliness of crime and contentious litigation at work, against something of beauty. Now that I am retired, I devote substantial energy into my art.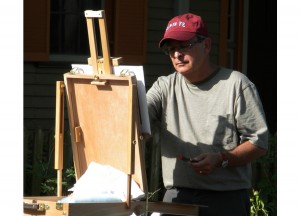 I have no formal degree in art, but I have taken workshops on painting techniques, and classes at the Kalamazoo Institute of Arts.  Mostly, I strive to learn something from every artist I talk to, and from every piece of art I view, whether in galleries, museums, or art fairs.  I paint mainly landscape and still life work in acrylics, oils, and watercolors.  Many of my works are based upon my original photographs taken around southwest Michigan and on travels to other states and countries.  I have attended the New Harmony, Indiana, 'First Brush of Spring' events for the past 5 years, where he began to paint in plein air (live, outdoors).  I am a member of the Three Rivers Artists Guild, and affiliated with the Plein Air Artists of West Michigan (PAAWM) group, and Ottawa Shores Plein Air Artists as well.