Ruth Scott
Artist's Statement:
For me, inspiration starts with being near the water. I find peace in the beauty and magic of the water, the changing tides and landscape. Surf, wind and sky ground me and provide the perfect setting for creativity.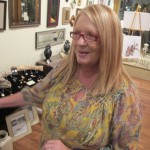 After collecting glass and water-worn stones along the shores of Lake Michigan, I was inspired to create designs that were a reflection of the peace and beauty I found along the water's edge. This led me to metalworking so I could learn how to capture these found objects in a beautiful way. There is a peace by the water. There is also a peace I find when working on one thing, one design, one idea.
While working with metals, I focus on capturing the magic of the water that is found in a stone or piece of glass. I use copper, brass and silver to accent and embrace the piece and the sentiment. Learning is an important component of my life and therefore of my art as well. I enjoy exploring the properties of stones and metals and experimenting with different techniques to create pieces that are unique and peaceful. As life is a journey, my art is a journey. I approach my art in the same manner, allowing myself to be led by the peace of the water and the direction and peace of God as I further develop my personal voice in my medium.

Artist's Biography
Jewelry maker Ruth Scott has studied metalwork and design at the Kalamazoo Institute of Art with Nancy Koning, Megan Tang, Char Short, Jeanette Maxey and Amy Culp, and is currently learning the art of lapidary. She also works as a Realtor for Berkshire Hathaway Home Services Michigan Real Estate and has been licensed since 1974.
Ruth splits her time between Three Rivers and the shores of Lake Michigan, where she finds her inspiration and peace. Ruth has 3 children, two grandchildren and resides in Three Rivers with her husband, Steve. Her work may be seen at Three Rivers Artists Guild events and galleries. Ruth may be reached via email at
ruth@ruthscott.com
or by phone at 269-506-0577.