Pam Davidson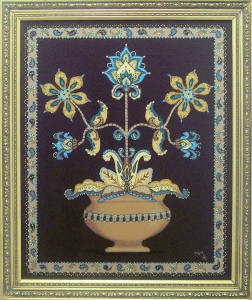 I recently moved from Tucson AZ to Three Rivers. I have been painting since 1976. Originally I was a craft artist and taught tole and decorative painting for 15 years.
In 2007 I changed my direction to fine art. Since then my paintings have won 11 awards and I have had 4 to 5 exhibitions and gallery shows a year. My paintings are in private collections throughout the world and I have been featured in a number of Tucson, AZ magazine and newspaper articles.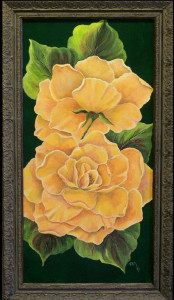 My medium is acrylic, my subject matter is eclectic and my style is whimsical with a leaning towards folk art. There is a common aspect in most of my work which is the use of vibrant colors and the incorporation of dots. For this reason I have been given the title of "The Dot Lady"
All of my work is original, no prints. My frames are recycled. I buy them at yard sales and thrift stores and refinish them. Before creating a painting I choose a frame then decide what subject matter and color choice will compliment that frame.

To see more of my work visit my blog at:
http://pamsartblog.blogspot.com/
Pam Davidson was juried in to the Three Rivers Artists Guild in January, 2016. Her painting "With a Moroccan Flair" won an honorable mention at the Carnegie Center for the Arts' 2016 Regional Juried Show. Her work may currently be seen at the Vicksburg Cultural Arts Center Gallery in Vicksburg, MI.