Lisa DeVine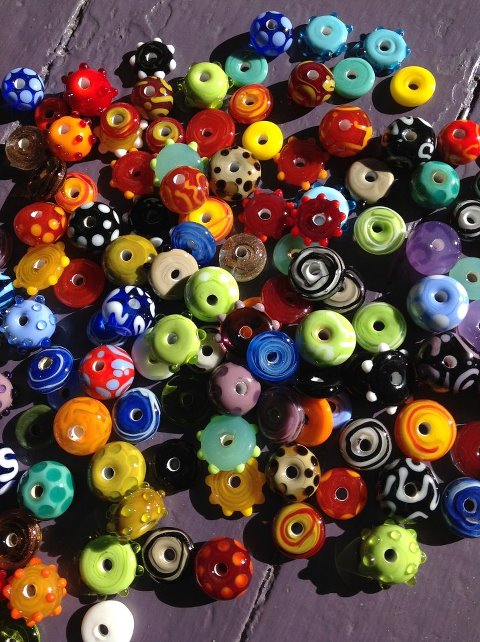 About Me
I was born into an artistic family. My parents were both artists and interior designers. When I was young, my parents (with me and my sister in tow) frequently showed their artwork at area art fairs. Around 1976, my family bought an art supply and picture framing business in Battle Creek, MI. While working for my parents in the art supply store, I was able to experiment with a variety of art mediums, and learn the art of picture framing from my dad.
I have a bachelor's of art degree from Western Michigan University. My concentration was in fine art and graphic design. I worked in the field of graphic design full-time for about 15 years. In 1999, I went to work with my sister and mother in the family picture framing and gallery business in Battle Creek (DeVines Picture Framing & Home). I still do freelance graphic design work, and random artistic projects using a variety of mediums, in addition to beadmaking and jewelry design.
I have always had a love for beads. I started stringing beads as a child after I recieved a beading kit one Christmas. When I discovered lampwork beads, I knew it was something I wanted to learn. Around 2004, I finally had an opportunity to take a 2-day workshop at the Michigan Fiber Festival with Arkansas beadmaker, Karen Stavert. Within a few months, I had a makeshift studio in the basement of my home and started making beads.
I moved to Three Rivers in 2008. My boyfriend and I really enjoy coming up with creative ideas together, and have designed and built a multi-purpose studio space in our home.
How My Lampwork Glass Beads are Made
Every lampwork glass bead is made one at a time using a stationary torch, with a flame temperature of 1,200 to 1,700 degrees, to melt the glass and form it into the shape of a bead. Each bead is unique and one of a kind.
Lampwork beads are made on a metal rod called a mandrel. The mandrel istreated with a special release compound so the bead can be easily removed. Glass rods are melted and wound around a mandrel. Then, using othercolored glass rods, designs are added to enhance the bead.
After the beads are complete and cooled, they are put in an annealing kiln and heated to approximately 940 degrees for about 30 to 45 minutes. Then the beads are slowly cooled back to room temperature. During annealing, the stress in the glass is relieved and the molecules are allowed to cool and arrange themselves into a solid, stable form. By annealing the bead, it is stronger and less prone to cracking.