Growing up in Southern California I began drawing trees and horses, my two favorite subjects. Later in school we were given paint and I discovered the magic of pulling a brush-load of bright color across white paper! I have never recovered from the wonder of this and, today, still feel that same excitement when I paint.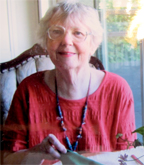 After graduating from the University of Colorado, travel and other work occupied my time until I came to rest in Three Rivers in 1963. I began teaching, and have taught at the Carnegie Center for the Arts, Glen Oaks Community College and the Commission on Aging Community Center in Cassopolis. Teaching continues to be a great source of satisfaction for me, while deepening and nourishing my own art as well.
Most importantly, I was introduced to a new form of thick stained glass called "slab glass". This beautiful glass captured my imagination and soon I found myself among friends, making small window pieces, going to fairs and accepting commissioned works. The Nazarene Church in Three Rivers was my first big commission, in 1966, and a rose window for the Episcopalian Church of the Mediator in Harbert, Michigan was just installed in January, 2011. I have many other windows and glass pieces installed in churches, schools, businesses and private residences in the Midwest and California.
Although glass has been my main work, painting is still closest to my heart. As an outdoor painter, pastel has been my chief medium. With a close painting friend I have traipsed over hill and dale capturing the beauties of our land in all its seasons. Much of my painting is done directly from life, while other paintings retain a more symbolic and expressive style, similar to work in stained glass.
Stained glass work by Joan Hector that may be viewed online:
http://holytrinitysouthbend.org/windows.html – windows at the Holy Trinity Episcopalian Church in South Bend, IN
http://threeriversdailyphoto.blogspot.com/2009/08/stained-glass.html – in the church hall of the Trinity Episcopalian Church on Main Street in Three Rivers