Gail Walters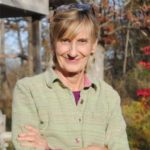 Gail Walters makes art in and around Three Rivers, Michigan. Creating in many media, she blends materials and motifs from diverse cultures and the natural world. The influence of nature and the journey of the soul can be seen in her work.
Walters particularly enjoys working in mixed media, each piece unfolding naturally, playing with what she's doing and allowing whatever wants to happen. Colors, fibers, found objects from nature, textiles and stitching are the mainstays of what she loves to do. "Art is my passion and the core of my creative life," she says.

Walters was born in Sturgis, MI. She became a nurse, married and raised two sons. After her youngest graduated from high school she moved to Colorado and completed a B.S. degree in Human Services. Living in the Colorado foothills allowed her love of nature and her passion for art to become the focal point of her life.
She returned to Michigan area to be near her children and grandchildren, and now lives and works in the Three Rivers Area.
Gail Walters is one of the Guild's three original incorporators, with Becky Hackenberg and Christine Hartzell, in 2009.