Eileen Mazurski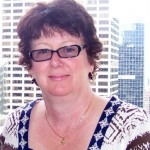 My High View Studio is located on a small farm in Three Rivers, Michigan. I live here with my husband, two horses and a cat named Scram. We moved here from Chicago in 1993. I grew up in Chicago's North Austin neighborhood on Long Avenue.
Painting and drawing have been a part of my life since my early teens. My interests are varied. I love the feel of Chicago, Northern Michigan, and the Southwest. I try and capture these feelings with paint. I am fortunate to visit these places often and they are close to my heart. Not only are they beautiful, I get to share them with my favorite people.
My abstracts are an inner vision that I try to bring to reality, so that they can be viewed.
Special requests and orders are always welcome. Fine art quality giclee prints and enlargements are also available.
Eileen Mazurski
High View Studio
12675 Harder Road, Three Rivers, Michigan 49093
(269)279-5610
I joined the Three Rivers Artists Guild in November, 2011.