Eileen Mazurski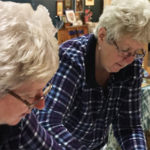 The paintings in Eileen Mazurski's High View studio are bursting with color and enthusiasm. She fearlessly tackles each new topic and technique with adventurous intensity. Acrylic and watercolor are her usual media, but a landscape may be rendered in torn paper or a cityscape in broken glass. A whimsical photograph becomes a work of art. A face or a form may come from an inner vision, shown through abstraction.
"My best paintings and drawings happen when I'm remembering mysterious dreams," she says.
Looking past the obvious, she finds beauty in unusual places.
Mazurski's images of Chicago and the Southwest, along with local scenes and images of Ireland are compelling. She adds the occasional abstract or experimental piece, and makes her work available as prints as well as in the original. Mazurski's work is on display and in collections around the US, and in both Shanghai and Ireland.
Mazurski was originally a city girl from Chicago, but later moved to a farm in the wilds of Michigan. Her studio is located there, near Three Rivers, along with her husband, a huge, ancient barn, several horses, and a dog named 'Sparty'.

Special requests and orders are always welcome. Fine art quality giclee prints and enlargements are also available.
Eileen Mazurski
High View Studio
12675 Harder Road, Three Rivers, Michigan 49093
(269)279-5610
Eileen Mazurski joined the Three Rivers Artists Guild in November, 2011.