Christine Hartzell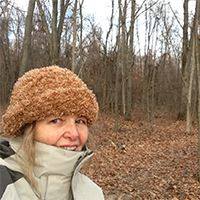 Artist's statement:
I love to be outdoors and I love to paint the complicated beauty in the landscapes, here in Michigan and in my native California. Although my paintings are realistic, the excitement and emotion of a scene often takes me beyond the purely literal.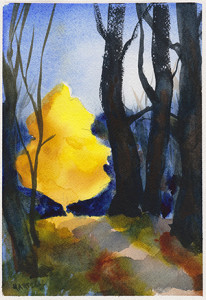 The texture and flow of watercolor show off natural beauty, especially here in Michigan, with water everywhere. Painting while in my canoe, I dip my brush into the river.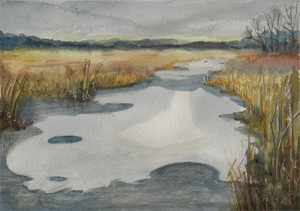 I spend most of my painting time 'en plein air', outdoors, trying to capture an elusive idea on the spot, before the light changes. Painting in the winter, in the snow and ice, is especially pleasurable. The landscape is full of drama.
Watercolor is a difficult medium, but also one with endless possibilities.

For examples of my photography see the Three Rivers Daily Photo, a project that ran from 2009 to 2011. I also design and maintain the Guild's website.
Christine Hartzell is one of the Guild's three incorporators, with Becky Hackenberg and Gail Walters, in 2009.