Bill Webster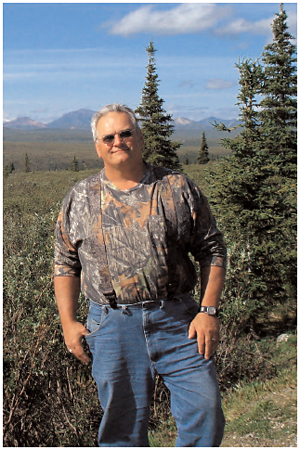 Bill Webster
Custom knife maker

About me:
I was raised in the Kalamazoo, MI area and lived there until 2003, when my wife Stacy and I finally completed building our home in Three Rivers, by Clear Lake. For 31 years I had worked in the auto industry, the majority of those years in various union positions. Since 1978 I have been making custom knives and other cutlery. I learned my craft with the assistance of tool and die makers, who were employed at Fisher Body in Kalamazoo. In 2008 I was able to retire from the corporate world, and have since had more time to devote to the art of knife making.
About the knives:
I make knives that are unique, special, functional and dependable. They are guaranteed for life (mine, not yours). Reasonably, I cannot guarantee my knives against owner abuse.
D2 steel, (which is very close to a stainless steel), is used in most knife creations because this material holds an edge very well and offers somewhat of a stain resistance. Some knives are crafted from 440-C stainless. My handle material of choice is stabilized hard wood burl because it is not affected by hot and cold conditions. The wood is dried then saturated under pressure with acrylic resin.The resulting finish is beautiful and very durable. Other natural handle materials include stag, horn, etc. depending upon availability. Sheaths are hand made by Green River Leather Works in KY; Jack Mosher; or hand made and sewn by Bill Dehn, a local artisan.



How they are made:
I always purchase my steel from American producers, as it is a dependable source, and meets my mineral and chemical requirements. My knives are cut from 3 foot pieces of steel. I shape each blade using saws, files and belt grinders. Holes are drilled in the steel to give the knife proper balance. I am proud to state that I am one of only a very few knife makers to finish bevels with files and hand sanding. My knives are then heat treated commercially. Handle fitting and assembly comes next, in my home shop. There, the blades have their final hand polishing and assembly. The Webster Knife Works logo is then etched on the finished knife.
Each knife is made one at a time, with 10 to 15 hours devoted to its creation. Each one is a truly hand made work of knife art from an artisan who is devoted to his craft.
****************************
Bill Webster's website is websterknifeworks.com. Contact information is on the website. To hear Bill discuss his materials and types of knives in a December, 2010 (during the Three Rivers Artists Guild's annual holiday gallery) audio interview by Bruce Snook of the River Country Journal, follow this link: Bill_Webster_interview_12-10-10.mp3

The River Country Journal article is here: www.rivercountryjournal.com.