Barb Kroggel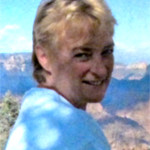 Barb Kroggel, originally from western Pennsylvania, has always loved the arts. She loved to sketch with colored pencils when very young and since receiving her first camera at age 10 she has been capturing the beauty of our natural world on film.
Barb earned a degree in Environmental Science from Slippery Rock University. Her love for the environment lead her to a career in western New York, Maryland and Virginia. Living in the Shenandoah Valley, near the Appalachian Trail, renewed her interest in outdoor photography. She honed her skills in the field through a class that was held in the Shenandoah National Park / Skyline Drive.
During this time, Barb vacationed at Corey Lakewith her husband at his family home. The love of the lakes and beauty of the surrounding area led them to eventually move to their current residence on Corey Lake in the Three Rivers, Michigan area.
A second passion of Barb's is her love f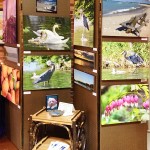 or rescuing animals–primarily dogs and cats. Over the past 16 years, Barb has rescued and found homes for hundreds of St. Joseph County's abandoned furry friends. A trip to Best Friend's Animal Sanctuary in southern Utah presented an opportunity for Barb to combine her two passions and work with a staff photographer, learning techniques to capture the personality of our animal companions.
Barb enjoys exploring photography in a variety of venues. Landscape artwork ranges from the stark beauty of the red rock country of southern Utah to the lake country of southwest Michigan. This past summer included a collaborative effort with Corey Lake Orchards, using the blossoms, fruits, and vegetables as subjects for a series of very popular note cards. Of course, always close to her heart are the animals. Barb has a series of rescued animal photos and cards and earmarks the proceeds from these sales to assist in area rescue efforts.
Our Creator blessed us with beauty in so many different ways. It is Barb's wish to share that beauty through the lens of her camera.
Barb Kroggel's images may be seen on her website, Kroggel Photography.