By William Welty
If you appreciate the work of E. Manet, I recommend a visit to the Toledo Art Museum. My wife and I took in the traveling exhibit on November 13,2012. The $8.00 exhibit fee is well worth it. (For $12.00 you can purchase a combination ticket that also admits you to a fine collection of early Hollywood studio photos of the stars).
The exhibit boasted scores of Manet's work, including most of his well-known paintings. The only really notable absences for me were "Olympia", "Luncheon on the Grass", and "Bar at the Folies Bergere". I particularly enjoyed seeing "Monet and his Family in the Garden", "Amazon", and the "Portrait of B. Morisot" with its radiant flowing white dress. Also the details included in "Portrait of Emile Zola" is amazing.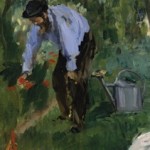 The paintings are grouped in several galleries arranged by subjects such as 'Family', 'Portraits', and so forth. There is a gallery of his pastels too. No photography of any kind is permitted in the exhibit, but non-flash is permitted in the museum's permanent collection.
The museum is an easy 2 hour drive from Three Rivers. It is right off I-75. Parking is $5.00. The museum café has wonderful food and wine. There is an extensive gift shop as well. The exhibit is there until January. Enjoy!
---
Toledo Museum of Art, 2445 Monroe Street at Scottwood Avenue, Toledo, OH; phone 419-255-8000. The Manet exhibit "Portraying Life" closes January 1, 2013, after which it will be traveling back to Europe. Museum Hours of Operation are:
Tuesday–Thursday, 10 a.m.–4 p.m.
Friday, 10 a.m.–10 p.m.
Saturday, 10 a.m.–6 p.m.
Sunday, noon–6 p.m.