Three Rivers Artists Guild members will be participating in the Friday, October 1 Art Hop in Kalamazoo.
October's Art Hop is emphasizing photography, and Carol Koterski Dugan has a show of her beuatiful photographs at Chris Ann's Nails, Pedicures & Notions, at 157 South Kalamazoo Mall, Suite 160 (from 5 pm to 9 pm.)
Also, a show from 5 to 8 pm of plein air artwork done this August at the Stewart Avenue Inn, a huge Queen Anne style mansion restored as a bed & breakfast, includes a watercolor by Christine Hartzell. The Stewart Avenue Inn is a half block off North Main Street near Kalamazoo College, 229 Stewart Avenue, and the show is sponsored by the Kalamazoo Artists' Alliance Center.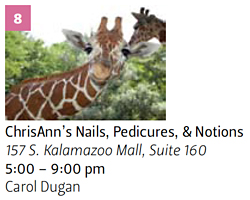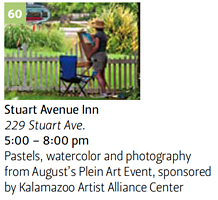 A brochure of the Art Hop, including a map and images of work on display, may be downloaded here: October Art Hop Brochure (a PDF file).
"Art Hop is a free event that features new art exhibits in a fun, casual atmosphere. Numerous galleries and businesses host a variety of artwork, and you can hop around from one exhibit to the other. You also have the opportunity to meet the artist."
For More Information, contact the Arts Council of Greater Kalamazoo, (269)342-5059