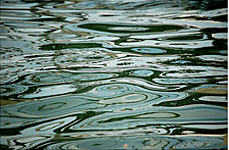 Two of photographer Carol Koterski Dugan's works are being displayed in the Alumni Art Exhibition at North Park University in Chicago. The pieces on display are 'God the Artist' and 'Hanalei Bay.' The exhibition is in Carlson Tower Gallery and Brandel Library, and may be viewed weekdays from 9 am to 5 pm, as well as during extended hours of Homecoming weekend, October 1-3. The exhibition is open through October 3.
On Friday, October 1, Carol Dugan will be participating in the Kalamazoo Art Hop. Dugan will display work at Chris Ann's Nails, Pedicures & Notions, at 157 South Kalamazoo Mall from 5 pm to 9 pm. Selected pieces will remain at that location during October.
In addition Carol Dugan has a few works on display as part of an ongoing exhibition at LA's Coffee Cafe in Three Rivers, and at the Prudential Preferred Realty offices in Three Rivers.