What a great evening! Even the thunderstorm that rolled through briefly could not dampen everyone's enthusiasm. Lots of pictures on our Facebook page (click the icon to the right to view) and good coverage in the River Country Journal, rivercountryjournal.com/?p=34436, 'Class reunions, Art & Music Hop staged in Downtown TR' by Bruce Snook. (Bruce C Snook, the publisher of the River Country Journal, passed away August 29, 2013. We will attempt to retrieve the information in this link.)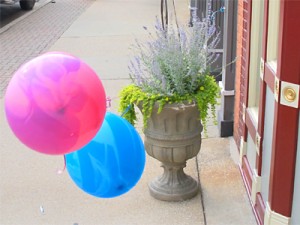 Local artists and musicians along with those from nearby areas met the public, displayed their work and performed their music in downtown stores and the Carnegie Center for the Arts. The scene was enhanced by the Three Rivers High School 1960s classes reunion and a display of candy-colored creampuff cars in the parking lot behind downtown.
The Three Rivers Art Hop was presented by the Three Rivers Downtown Merchants Group.
Three Rivers Artists Guild members displayed their locally created work at the Carnegie Center (Kathy Bingaman, polymer and glass jewelry), Pisanos Bar and Grill (Christi Misner, acrylic and oil paintings), Second Wind Furniture (Mary Powers, metalsmith jewelry), UniQ (Carol Dugan, photography), Express Nutrition Too (Judi Brook, fiber arts and Brian Brook, sculpture), World Fare (Donna Rathert, acrylic paintings), The Golden Finch Framing and Gallery (Ruth Scott, copper and sea glass jewelry) and Fabrications (Becky Hackenberg, photography.) Also notable were the wood mosaic animal portraits by Vicksburg artist Kevin Johnson at Downtown Dog, and the fine art pottery of Constantine ceramicist Mark Goetzler at Love Your Mother. Dedicated Sports hosted wire sculpture by Ginny Wilson and strung bead jewelry by Lisa Devine.
Food and drink were provided at each stop on the Art Hop, topped by a spectacular artistic display of hors d'oeuvres presented by chef Thom Britton at UniQ Jewelry. Musicians included Art DeMulder, keyboards and guitar at Second Wind furniture; a guitar, vocal and cello group at World Fare; 60's DJ "Wacky Wayne" at Pub 21; "Smokestack and the Foothill Fury" band at the Riviera Theater; Nick Farmer on keyboards at Main Street Cafe; violin Celtic music with Catelyn Seely and Roxanne Ewert at Lowry's Books; the Three Rivers Silver Triad Flute Club at Centsible Treasures; Ben Nofsinger on keyboards at the Golden Finch; and cellist John Mark Wenger at the Carnegie Center for the Arts, where visitors could enjoy the ongoing shows as well as the Art Hop.