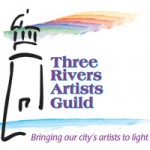 Our Statement of Purpose: Artists helping artists enhance their lives, their creative vision, and their community.
About the Three Rivers Artists Guild
About Art in Three Rivers
About Events
About Showing, Selling, Joining
The Three Rivers Artists Guild is a non-profit organization of visual artists established in 2009. The Guild provides member artists with mutual support and inspiration as well as educational and exhibition opportunities. Promoting public awareness, understanding, and appreciation of the visual art being created in the Three Rivers area, and promoting the Three Rivers area as an arts destination are also parts of the Guild's mission.