The Carnegie Center for the Arts Regional Show had its opening and reception on Sunday, January 22. The opening was lively and well attended. Every artist who was juried-in to the show was a winner, and awards were presented to those the jurors chose as exceptional.
Best of Show is Al Harris Jr.'s large pastel portrait of his grandson, 'Jayce's Mood'. Accepting the award, Harris related that he told his grandson, who then asked, "Am I famous?"
First place went to Randy Bronkema, "Alley Reflections" (Sylvia A. Wong Gallery).
Second Place was Susan Badger's gorgeous watercolor, "Pink Sky" (Fireplace Gallery.)
Third Place went to Helen Kleczynski for "Keith's Ladder's #2" (Armstrong Gallery.)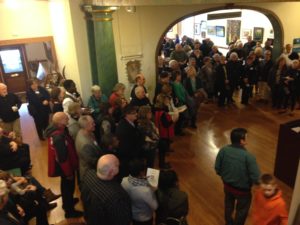 There were also four Juror's awards: Jerry Bowman, "Big Iris"; Sunday Mahaja, "Royal Highness"; Jim Thompson, "Oaks and Palms"; and Tamara Hirzel, "Red-Winged Black Bird".
Ballots are being collected for the People's Choice award, visit the Carnegie and vote for your favorite before February 18! Gallery hours are Tuesday-Friday, 10am to 5pm and Saturday, 10am to 2pm. The People's Choice Award will be announced on February 21.
Call 269-273-8882 for more information.
The Carnegie's Regional Show draws on the best new regional visual art from southwest Michigan and Michiana (northern Indiana). Jurors for this year's Carnegie Center for the Arts Regional Show were painter Mark Vander Vinne and photographer John Gilroy.