Judi Brook has designed a lovely postcard (below)-email it to your friends! And "share" the smaller version on our Facebook Page (click the Facebook link above). Let everyone know!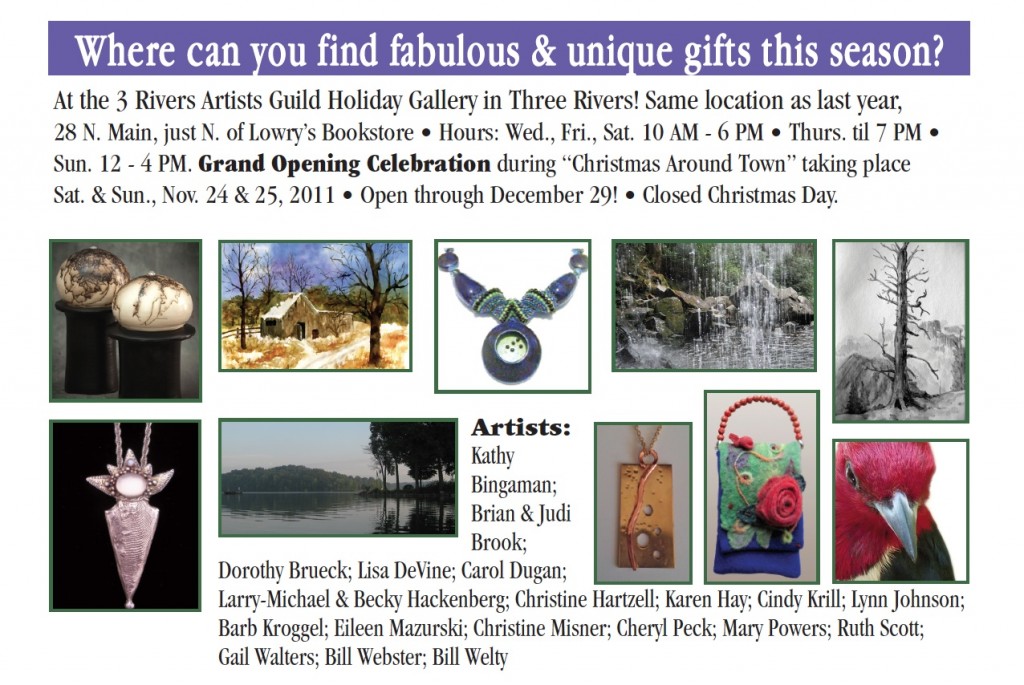 Where can you find fabulous & unique gifts this season?
At the 3 Rivers Artists Guild Holiday Gallery in Three Rivers! Same location as last year, 28 N. Main, just N. of Lowry's Bookstore
Hours: Wed., Fri., Sat. 10 AM – 6 PM • Thurs. til 7 PM •
Sun. 12 – 4 PM. • Open through December 29! • Closed Christmas Day.
Grand Opening Celebration during "Christmas Around Town" taking place
Sat. & Sun., Nov. 24 & 25, 2011
Artists:
Kathy Bingaman; Brian & Judi Brook; Dorothy Brueck; Lisa DeVine; Carol Dugan; Larry-Michael Hackenberg; Becky Hackenberg; Karen Hay; Cindy Krill; Lynn Johnson; Barb Kroggel; Eileen Mazurski; Christine Misner; Mary Powers; Ruth Scott; Gail Walters; Bill Webster; Bill Welty